As the decade came to a close, Atari put out an updated version of Pete Rose Pennant Fever for Atari 7800 in 1989, but that would be the end of the short-lived franchise as a new wave of rookies took over the industry in the '90s. 
The Kids Want to Play As The Kid
As any baseball fan will tell you, the biggest story of the first half of the 1990s was the disconnect between Major League Baseball and the MLB Players Association, which culminated in the 1994 players strike and cancelation of the World Series for the first time in 90 years. We're terribly sorry, Expos fans. 
The labor strife extended to virtual ballfields. Until Sega Genesis released World Series Baseball in 1994, no baseball video game had been licensed by both the MLB/MLBPA, meaning games either used pro teams (including logos and stadiums) or used player likenesses, but never both in the same game. As the console wars began to heat up, so did the quest to land cover stars. In 1992, Cal Ripken, Roger Clemens, Nolan Ryan, and Tony La Russa all had rookie video game titles of their own. While Tony La Russa Baseball for Sega Genesis was the only game to secure the MLBPA license, none of these titles were trailblazers. 
There was only one superstar able to cut through the baseball game clutter. Despite only having the MLB license, Super Nintendo's 1994 title Ken Griffey Jr. Presents Major League Baseball was a massive commercial success. Player statistics accurately represented the 1993 season, so technically you could edit in the real names of players. Otherwise, Griffey was the only playable real-life star in the game. During the '90s, the biggest star in baseball shifted video game units like no other. The later titles in the franchise were more polished and beloved (give us the 3D graphics of Ken Griffey Jr's Slugfest on N64 any day), but the 1994 installment changed the game for good.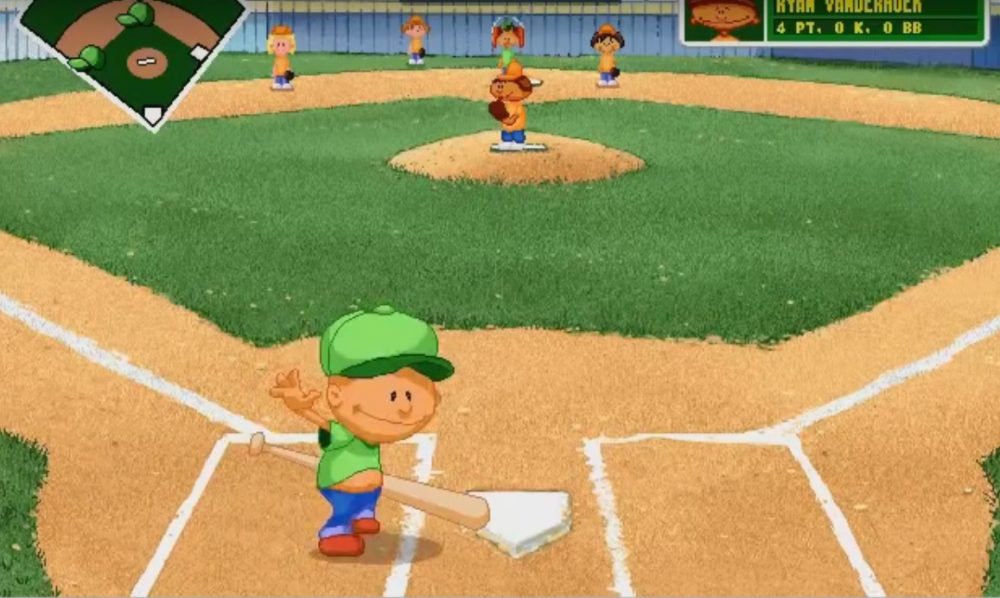 Backyard Rules The PC 
We'd be remiss to leave both PC gaming out and children's games of the discussion. Let's kill two birds with one stone here: Backyard Baseball (1997) can easily stake its claim as the best rookie game for both PC gaming and children's titles. Humongous Entertainment authored a love letter to the diamond heroes of the schoolyard in a game that featured colorful, cartoon 2D graphics, with fictional players who had their own catch phrases and personality traits. The gameplay also had fun wrinkles like aluminum bat power-ups, zany specialty pitches, and unique ballfields like Tin Can Alley (an urban playing field), Dirt Yards (literally an empty dirt lot), or Steele Stadium (a baseball backyard of dreams).