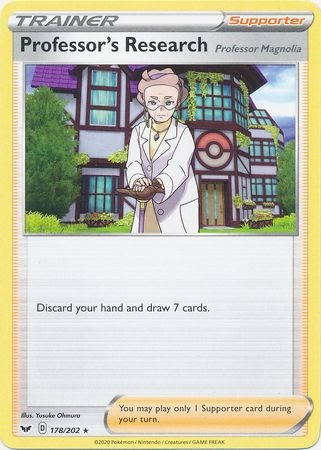 Professor's Research
Price: $2.83 – $3.39 (or $22.00 – $22.49 for full art Hyper Rare)
No deck has any business running fewer than three copies of Professor's Research. In any game of Pokémon, you need cards and Prof's Research is how you get them. The good news here is that unless you want to splurge on the full art version, any copy of this Professor Magnolia card should be well under $5.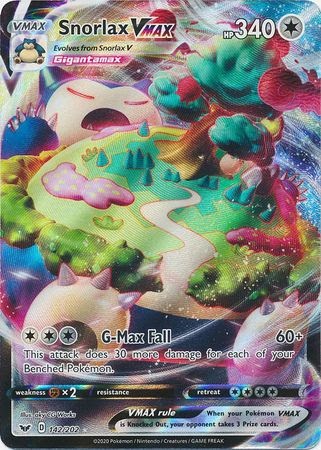 Snorlax VMAX
Price: $14.99 – $17.26 (or $21.99 – $27.88 for Secret Rare)
His name is Snorlax VMAX, slob of slobs. Look up his works, ye mighty, and despair! Suffice it to say, Snorlax VMAX is a high-cost option for anyone  prepared to just tear their opponent to pieces. Snorlax's 340 HP is a new record for any Pokémon card allowed in competitive play. And that attack can reach a total of 210 damage for three colorless Energy. From a purely collecting perspective, Snorlax VMAX might end up being one of the three definitive cards remembered from this set for a long time.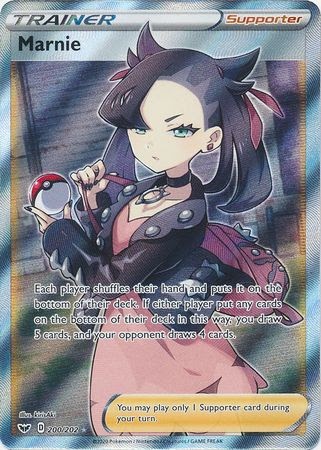 Marnie 
Price: $4.49 – $8.00 (or $25 – $29.99 for full art Hyper Rare)
Marnie is another super high cost variance Supporter from this set. The usual rare version of her can be had for under $5. The full art Hyper Rare can approach $30. In terms of playability, Professor's Research may be more consistent and therefore more valuable than Marnie.. But when timed well, Marnie can be an even bigger card advantage swing than Magnolia's card. Not only that but Marnie keeps your deck packed for those rare occasions that decking oneself might be a concern.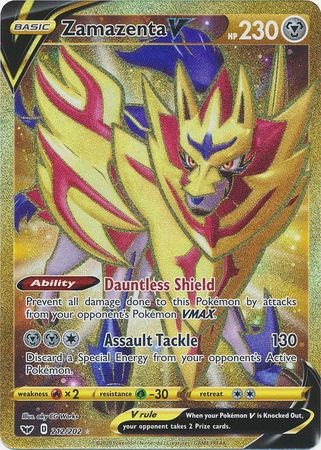 Zamazenta V
Price: $9.99 – $14.99 (or $39.99 – $45.00 for Secret Rare Gold)
The release of Sword & Shield has by and large been dominated by the ultra powerful Zacian V. That makes sense as not only is Zacian V likely the best card of the whole set, but people just seem to enjoy Sword-themed things more than Shields (Pokémon Sword for the Nintendo Switch has sold many more copies than its Shield counterpart). But still don't sleep on Zacian's legendary buddy Zamazenta. Dauntless Shield is a decent enough Ability should the competitive meta become dominated by copies of Snorlax VMAX. But it's that attack that is truly Zamazenta V's best feature.